Report: Jennifer Hudson Is Pregnant
報載:Jennifer Hudson已經懷孕7個月,並已經在芝加哥老家舉行過baby shower派對。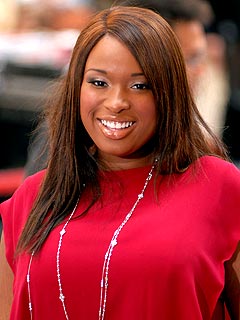 Grammy-winning singer and Oscar-winning actress Jennifer Hudson can add mom-to-be to her resume after a weekend baby shower in her honor was held in downtown Chicago,
the Chicago Tribune reports
.
Felicia Fields, a longtime friend of the Hudson, confirmed to the paper that the event happened on Saturday.
"It was a baby shower, a quiet gathering of friends and mostly family," Fields, also a singer and actress, said of a gathering in a relative's home. "They're really trying to keep it kind of quiet."

She added: "It was a nice time that we had."

When asked if Hudson received blue or pink gifts, Fields said, "They don't know [the gender]. More yellow."

Another paper, the Chicago Sun-Times, reports Hudson is seven months along.

A rep for Hudson had no comment.

Hudson, 27, who is engaged to Harvard-educated-lawyer-turned-wrestler David Otunga, has also kept mum about her upcoming wedding date.


Source:People.com

相關新聞:Jennifer Hudson, Otunga Go 'Yellow' For Baby Shower(Singersroom.com)




---

如果懷孕消息屬實,那我還蠻替哈珍高興的!
走出家變陰霾的哈珍,整個人都亮麗起來。希望老爹能為哈珍去年推出的首張個人專輯多投下一點企宣費用,趕快推出第三波單曲主打!

Jennifer Hudson - Spotlight



Lyrics

Are you a man who cherishes and cares for me?
Is that true? Is that true? Is that true?
Are you a guard in a prison, maximum security?
Is that true? Is that true? Is that true?
Do we stay home all the time cuz you want me to yourself?
Is that true? Is that true? Is that true?
Or am I locked away, had a feeling that I'd find someone else
Is that true? Is that true? Is that true?

[Chorus]
Well, I don't like living under your spotlight
Just because you think I might find somebody worthy
Well, I don't like living under your spotlight
Baby if you treat me right, you won't have to worry

____ relationship, fulfilling your needs as well as mine
Is that true? Is that true? Is that true?
Or is this just my sentence, am I doing time?
Is that true? Is that true? Is that true?
If this is love, real, real love, then I'm staying no doubt
But if I'm just a prisoner, then I'm busting out
Is that true? Is that true? Is that true?

(Chorus)

Oh, you oughta be ashamed of yourself
What the hell do you think you're doing?
Loving me, loving me, so _______
Baby, all I do is try
To show you that you're my one and only guy
No matter who may come along
Open your eyes cuz baby I don't lie

(Chorus x2)